Phew! November has been packed with new content and there's a lot to update! But first, can we just say – how is it practically December already?! Just yesterday it felt like June, and now we're a week away from the one-year anniversary of our first planner!
So crazy!
We hope you've had an awesome and productive year. Hopefully the what remains of 2021 will be the icing on the cake for you. It will be for us!
That's because… well, let's just get what's new.
What's New at Clever Cactus:
If you want to be among the first to know about new products, join our newsletter.
We'll be sending out an email the day the Bunny Planner and Bunny Notebook are up in the shop, so you'll get an exclusive first-chance to order before we launch it on social media! Our newsletter also includes organization and productivity tips, a message from the founder, Lisa Hoekstra, and links to products and blogs you might find interesting.
So go on. Sign up! It'll be fun. 😉
Speaking of fun! November's Clever Cactus of the Month isn't a real cactus. Okay, the cactus part is real, but it's trying to pull the wool over our eyes! We've dubbed it the Imposter Cactus. Laura Dicker explains why.
Imposter Cactus:
Why some cacti blossoms are not as they seem
By Laura Dicker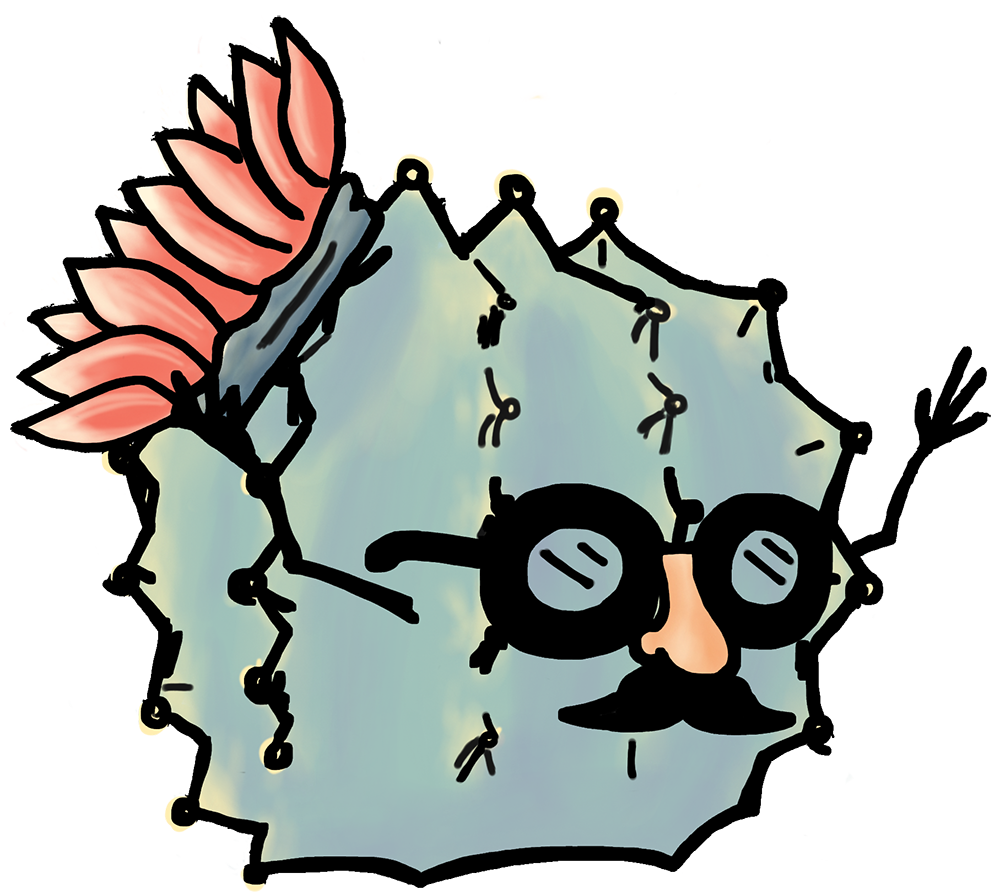 It happened a few years ago. I came across this cute little thing at a big box store, just a prickly green nub topped by a vibrant fuchsia flower. My plant collecting was just starting at the time, but I just knew I needed this cactus.
We were happy together for a while. My new cactus required very little attention. As long as it sat close to indirect sunlight, it served the best looks with its single, colourful bloom. One day, I stroked the flower affectionately (as one does) when my fingers grazed something gummy. I lifted one of the petals tentatively, expecting something gross, like a plant pest, but what I came across was far worse.
No, dear reader, it was not a bug.
It was… glue.
Gluing flowers to plants is a thing
From that point forward, I called my cactus Imposter Cactus.
In reality, most cacti do actually grow flowers. Is it rare? Sure, but it does happen. There are cacti somewhere in Arizona, flowering wildly as they bake under the desert sun.
Meanwhile, in Quebec, I'm moving plants away from the cold-soaked windows, so I doubt my Imposter Cactus gets everything it needs the way its American equivalents do.
The faux bloom perched atop my cactus's head has less to do with ill intent and more to with it being a victim of circumstance:
It's not from around these parts, so shipping it to a different country with a delicate bloom holding on for dear life would have been, frankly, pointless (source: Succulent Plant Care).
The negative impacts on cacti health
As it turns out, applying the chemical contents of hot glue to any living entity is kind of cruel! Fake flowers stunt the plant's growth by shading it from sunlight.
Removing the glued-on flower also causes problems, as it damages and scars the cactus's spine. In general, though, despite the profound sense of betrayal that will linger forever, the physical damage will likely only be short-term.
You always remember the first time you pry a fake flower off your beloved cactus. The disappointment runs deep. Though I get vivid flashbacks and am still a bit salty, discovering the reason why I brought an imposter home from the big box store helped a little.
Enlightenment aside, I think I'll shop at small, local plant shops from now on.
Who is responsible for such atrocities?!
Apparently, it's all the big box stores' fault (source: OK Whatever). Suppliers are asked (read: required) to fix flowers to unsuspecting cacti. Their commercial clients want to take advantage of the widespread appeal these faux-blooms attract in stores.
As mentioned before, not only would keeping original flowers be impractical in transit and in this climate, but faux-flowered cacti also sell three times more than those au naturel.

How to make sure you don't have an imposter
There are some quick ways to tell if a flowering cactus is real or fake in a big box store:
Gently lift the petals of the flower and look for glue. I know, the thought itself is just so depressing.
If you see several cacti of the same species, and each have a different coloured flower, they're likely fake. That level of variety doesn't really exist in nature.
When cacti actually do bloom, the flower grows from a stem, not directly from the spine.