Strength. Endurance. Tenacity.
This is the Clever Cactus story.
"Cacti symbolize endurance (they survive in extremely hot climates after all), strength in the face of adversity, tenacity… succeeding even when it seems impossible. When someone gives you a cactus, it means 'You can do it!' You are tough, strong, and will achieve your goals. This cemented the cactus as my spirit plant. Er… I mean, as the business name."

Lisa Hoekstra, Clever Cactus founder & entrepreneur
Our Story
Transitioning from full-time employment to a self-employed entrepreneur is intimidating, to say the least. There's a certain amount of chaos that comes with the territory. It's easy to get lost in the details and, unfortunately, some clients may take advantage of that. Being organized is the key to staying on top of, well, everything. A good organizational system ensures you're ready for whatever life, your business and your clients throw at you.
Clever Cactus started with a single day planner. We're talking a colourful day planner scribbled out into a dollar store notebook, with spreads and tracking systems that evolved nearly every week to better filter the chaos of work into a more orderly system. The scribbles were made by Lisa Hoekstra, the original clever cactus, in an effort to keep herself on track to grow her business.
Lisa started her writing and editing business in 2010 as a side hustle while she worked full time. She spent five years building her business and then, finally, realized:
"Hey, I can do this for real."
Thing is, running your own business is a bit different from office work. Working in an office, you have a boss, coworkers, people around you to help you manage the project load. You wear one hat (or a couple, if you work for a small company).
As a business owner, you wear all the hats. All of them.
All. Of. Them.
Until you can hire employees anyway.
The post-it notes and scrawled to-do lists she kept scattered around her desk just weren't going to cut it anymore. She had to find a better way. Thus began the research. The testing. The trial and error. The enjoying every minute of it.
She bounced from project management app to project management app; day planner to day planner; hand-drawn spread to hand-drawn spread. She scrawled out planner pages as she needed them, made indices and lists, crossed things off, rewrote them – and then, finally, landed on a system, a design, that worked well for her.
Drawing the planner pages by hand every week took up far too much time. Lisa realized she needed to truly design a day planner, one customized to her needs. So, she created a day planner of her very own.
From scratch.
That's when Clever Cactus was really born. Lisa used her (admittedly limited) design skills, and her arts and crafts savvy, to create the very first "Lisa Original". It was printed on your standard home office printer, using printer paper she just happened to have lying around. The binding? Key rings (painfully) threaded through manually punched holes. All told, that first day planner took her many, many hours to make.
But it was worth it.
Lisa used that very first Clever Cactus day planner every day since, and it helps her keep on track to hit her annual goals. Clever Cactus truly wouldn't exist if it weren't for that very first Lisa original.
Why a cactus?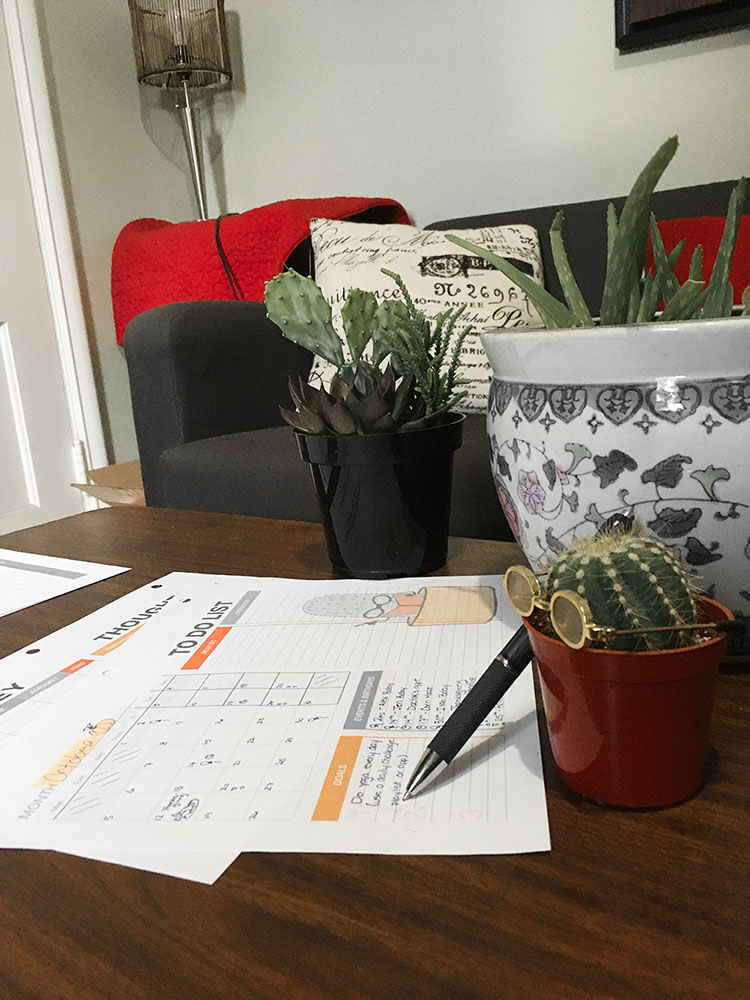 We latched onto the cactus (figuratively of course, we don't recommend literally grabbing a cactus) because it's prickly, adorable and often very pretty. But also because cacti don't need a lot of care to survive. Give them a good watering once or twice a month, set them out in the sunshine, and they'll thrive.
Our goals should be like that. We shouldn't have to spend every waking moment trying to sort ourselves out. Checking in once or twice a month, and setting yourself up with small steps to follow every week (aka the sunshine) is all it takes, really, to make a goal work.
Cacti also have medicinal properties – they take care of the people that take care of them. When you finally mark that goal accomplished, you'll find your success will sustain you … so you can start working towards your next big goal.