Cleaning is a never ending task. In fact, all housework is never ending! I find that I often feel like, as soon as I've finished cleaning, I have to start it all over again! Sometimes I want to just give in and live in squalor. (Un)fortunately, I appreciate cleanliness, and understand the health and mental benefits associated with a clean environment.
Which is why I continue my battle against dirt.
If you feel like your housework will never be done, you're right. It won't. Because it's not the type of task that has an end date. There's one trick I read about recently, and have been trying to adopt into my life. Here's the trick:
Think of housework as a cycle.
What does this mean? Well, for one, it means replacing "what's not done" with "where am I in the dishes cycle?" Or "where am I in the bathroom cycle?".
(I'd cite where I learned this trick, but I've lost the source. If you see something with this tip out there in the internet world, comment below and I'll put the citation here!)
What do I mean by "dishes cycle"? Well, instead of the dishes having two states – done or not done – I create one of those circles-with-arrows charts, like the ones we used in grade-school science to explain the water cycle.
Only, instead of precipitation, percolation, condensation, I've got: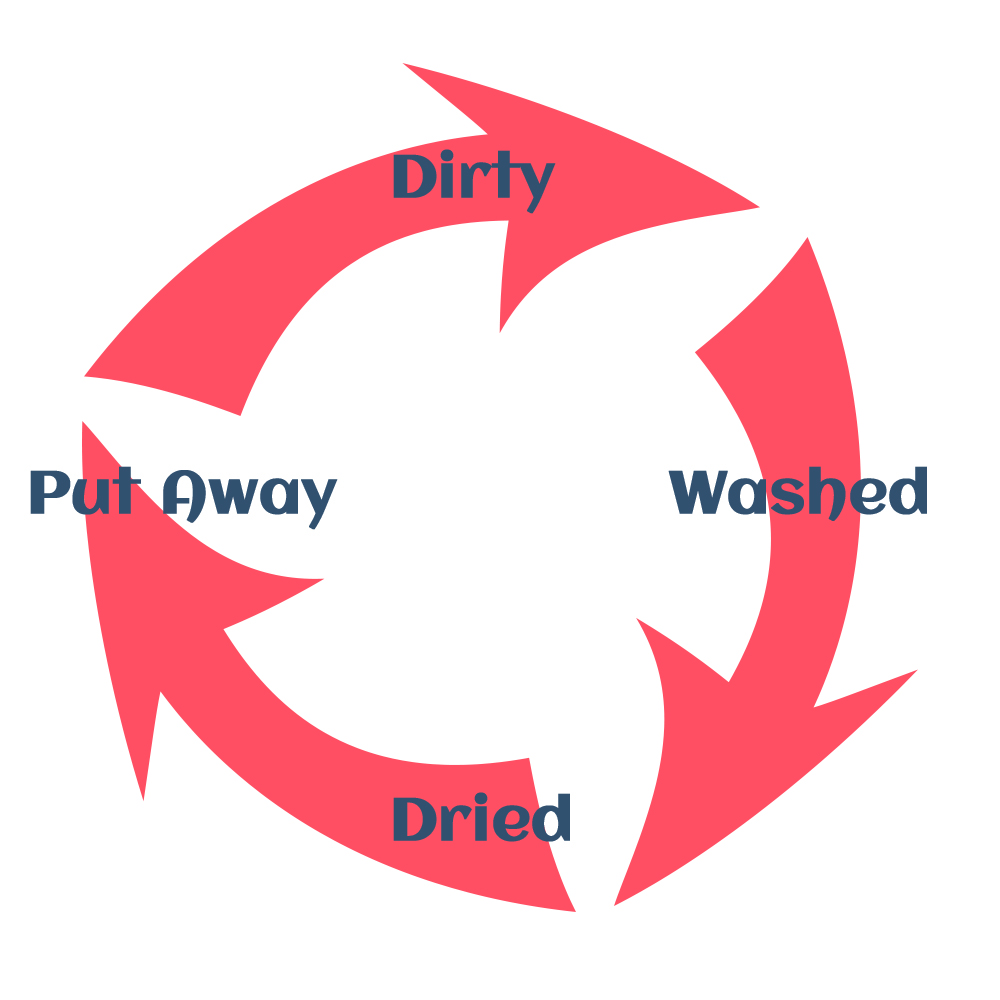 My dishes constantly exist somewhere in this cycle. And my goal is to move them through the cycle as needed.
There are other places in my life where I can apply this. In fact, laundry has a similar cycle:
Worn once or twice
Dirty
Washed
Dried
Folded
Put away
This cycle mentality works well for repetitive, daily tasks, like dishes and laundry. I've only created the two cycles above so far, but I imagine you can apply it to cleaning whole rooms.
That being said, I still prefer my "assigning a day every week or two to do a whole-house clean", just because I, personally, find it easier to get it all done in one go.
It helps that I have a small place.
Anyway! That's one trick I've learned that has taken some of the panic-stress out of repetitive, never-ending cleaning chores!
I have another method for staying on top of my daily, weekly and monthly cleaning tasks without feeling like the mess is going to squash me.
I create a schedule.
It is a common truth known by tidy people of the world that not everything needs to be cleaned every time you clean! Instead, you can split up your chores by day, week, month and year. This makes cleaning a more manageable chore – easier and frankly, less stressful!
I write my schedule on page 20 of my Clever Cactus planner (pictured right). This way I can reference it all year and stay on top of my chores.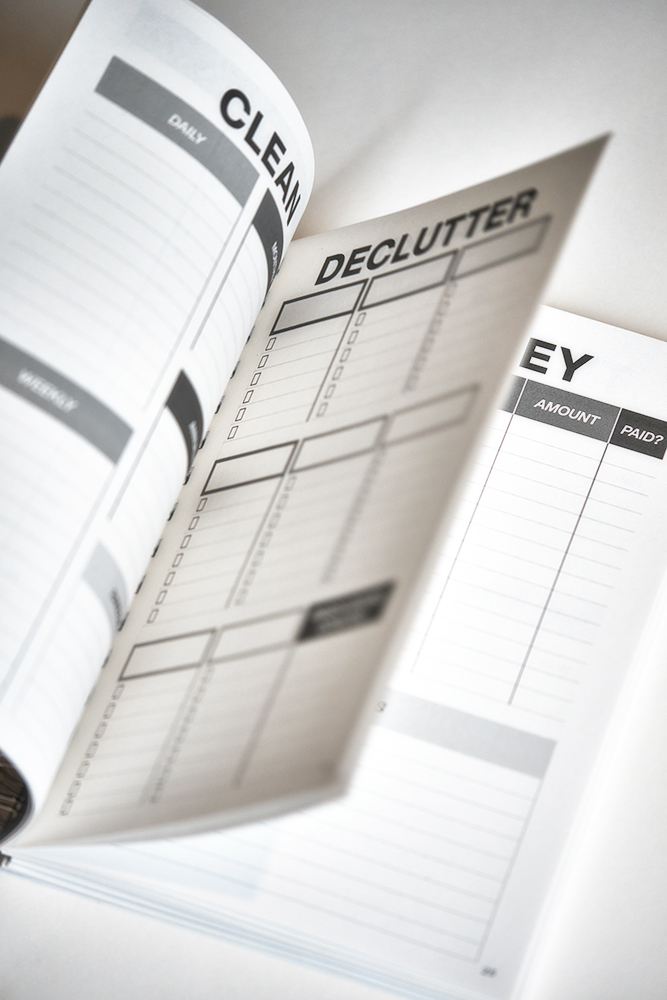 Below are a few ideas on which chores should be done when, and how often. Once you have your schedule in place, you'll find cleaning becomes just a touch less stressful – and your place stays cleaner all year!
My Cleaning Tasks
Daily
Make bed
Dishes
Wipe counters and kitchen table
Tidy (put out-of-place things back when you're walking past them)
Weekly
Change sheets
Laundry
Take out the trash and recycling
Quick dust
Quick vacuum
Quick mop
Clean and disinfect bathroom (toilets, showers, tubs)
Monthly
Deeper/more thorough clean (moving things around to dust, vacuum and mop behind them)
Deep clean kitchen (really go to town on the grease, wipe down the appliances, etc.)
Toss expired food
Multiple times a year
4 times a year:
Deep clean the fridge (take everything out & wipe the interior down)
Wash curtains
Shake out rugs
Scrub grout
Twice a year:
Dust lights
Wipe baseboards & doors
Wash windows (spring and fall)
Rotate Mattress
Clean kitchen cupboards (take everything out and wipe down the shelves)
Clean inside the oven
Clean out car
Once a year
Wash or dry clean: Slip covers, Pillows & Comforters
Have rugs professionally cleaned
Pull out large appliances and furniture to clean behind and underneath
Wipe down walls
Wash window screens
Clean out storage locker
Note!
This is by no means an extensive list – there are lots of cleaning and house chores I don't have to do, simply because I live in an apartment. There are also some things I have to do BECAUSE I live in an apartment (like clean my storage locker).
It's also based on my two-person family. Larger families will most likely need to do certain things, like taking out the trash or doing the laundry, more frequently than I do. So, move your tasks around to suit your needs and lifestyle!
Every Clever Cactus Planner includes a place for your cleaning schedule – grab yours in the shop today!