[The monthly review] helps me feel like I've accomplished something in just a month, and it lets me take a big-picture look at my life.

Leo Babauta, Author and Zen Habits founder
Last month, I talked about the benefits of conducting a monthly review. Now I'm going to tell you how I, personally, do my monthly reviews.
A little note before I get to it.
I'll reference pages of the Clever Cactus planner – because that's what I use for my reviews. If you don't have one, you can still follow this guide! I've included alternatives for anyone who doesn't (yet) have a planner.
If you have an agenda or day planner, but it doesn't have enough room for a monthly review you can…
Make your own monthly review journal (will explain how in a moment).
OR….
Use a Clever Cactus monthly spread. It has some of the full planner elements – and I'm designing others with different elements, like the daily tracking and "Month in Review" spreads, so you can pick the one that works best for you.
Starting your own monthly review journal
If you don't have a Clever Cactus planner, I highly suggest starting a monthly review journal. Especially if your agenda or day planner doesn't have a "monthly" section in it.
Here's how to make one of your own:
Grab any notebook with blank, lined paper – I don't know about you, but I have a bunch with empty pages. I just love notebooks. Perhaps too much.
Open to a new page. If you have washi tape, stick some of that along the paper's edge to mark the start of the year. If you don't have washi tape, slip a bookmark in there. Paper clips also work wonders for bookmarking purposes.
Write "Review Journal" across the top of the first page. This will be your title page and index page.
Flip to the next page. Write the Month name, and "In Review" across the top of that one.
Complete your monthly review (following the guide below).
Keep this journal somewhere safe during the month; if you decide to add your smiles and thoughts throughout the month, you can do so right away!
Pick it up at the beginning of next month and repeat steps 4 through 6.
There, you've made your first "Review Journal". Congratulations!
Now, let's get into the Monthly Review guide.
A Monthly Review Guide
Part 1: Look back at your previous month
I start every Monthly Review looking back at what I've done. This gives me a chance to remember all the good things that have happened, see how I spend my time, figure out what habits I've managed to build, and celebrate my accomplishments.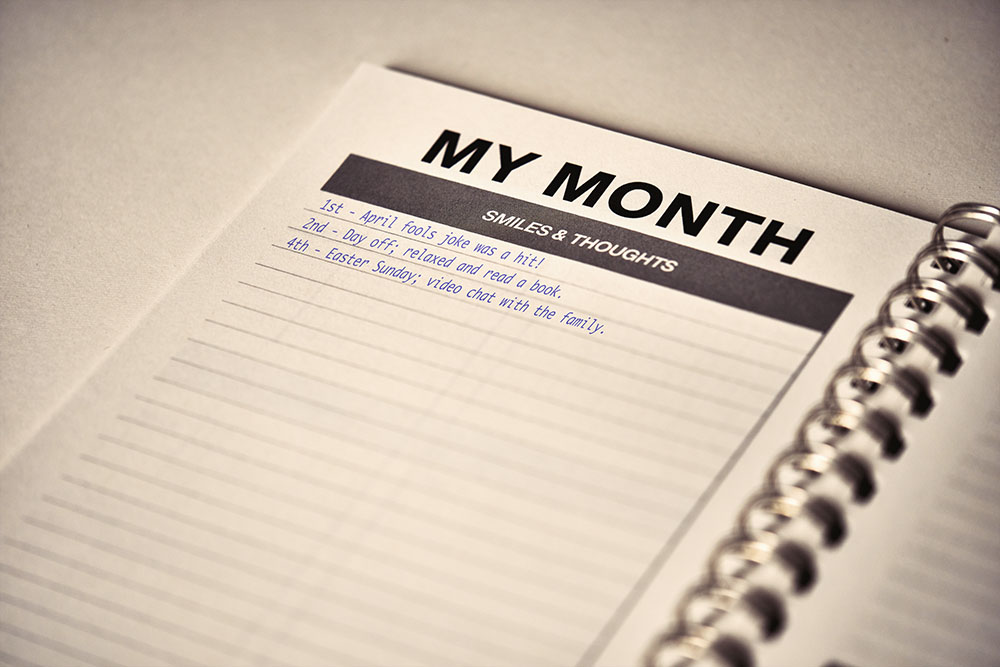 Step #1 Remember the good times
To start my monthly review, I like to remember everything good that happened. If you aren't a daily journal person, take this time to write anything and everything that made you smile during the previous month.
You might find it hard to remember all the good things, especially the first time you do this. Trust me, it'll get easier with time. When I first included "Smiles and Thoughts" in my monthly review, it was oddly difficult to remember the good things at the end of each month. This is because our brains are wired to remember negative events.
Something to do with evolutionary survival.
Anyway, focussing on smiles and happy thoughts means working against our natural tendency to remember the negative.
And it's hard.
That's why I started daily "happiness" journaling. (Got the idea from Gretchen Rubin's Happier Podcast.)
Happiness is the meaning and purpose of life, the whole aim and end of human existence.

Gretchen Rubin
I write down one sentence a day (or every other day, depending on how forgetful I am in the moment) on my "Smiles & Thoughts" page (the fifth page in the My Months spread). So by monthly review time, this page is already full.
All I need to do is read them. And smile.
Step #2 Review what happened
Now that my smiles and thoughts have put me in a positive frame of mind, I'm ready to take a good hard look at what really happened during the previous month.
In the Clever Cactus planner, specifically, I look at the following:
Goals (on the month's title page)
Events/Birthdays (on the month's title page)
Bills (page 2 of that month)
Tracking (page 3 of that month)
To Do list (page 4 of that month)
Then, I flip to page 22 in my planner to update my "Monthly Tracking", aka "when was the last time I" chart. This lets me see what I missed, if anything (there's usually something).
Finally, I ask myself the following questions:
Did I achieve my goals?
If not, what prevented me from accomplishing these goals?
What bills are missing?
Which bills are recurring?
Did I fill in my habits every day?
How did I do with my habit building?
Why did I do or not do my habits on specific days?
What tasks are done?
What tasks are recurring?
What tasks are incomplete and need to be worked on in the coming month?
I'll write my answers on either a scrap piece of paper or in the "My Notes" section of my Clever Cactus planner.
Don't have a Clever Cactus Planner? For these steps, you can:
Review each day in your agenda;
Create a "Smiles and Thoughts" page in your Monthly Review journal;
Fill that page in with all your smiles and thoughts.
Review each day in your agenda;
Start a "When was the last time I" chart in your Monthly Review journal (a Clever Cactus template is being designed);
On a new page, write your answers to the questions above;
Make a note of the patterns!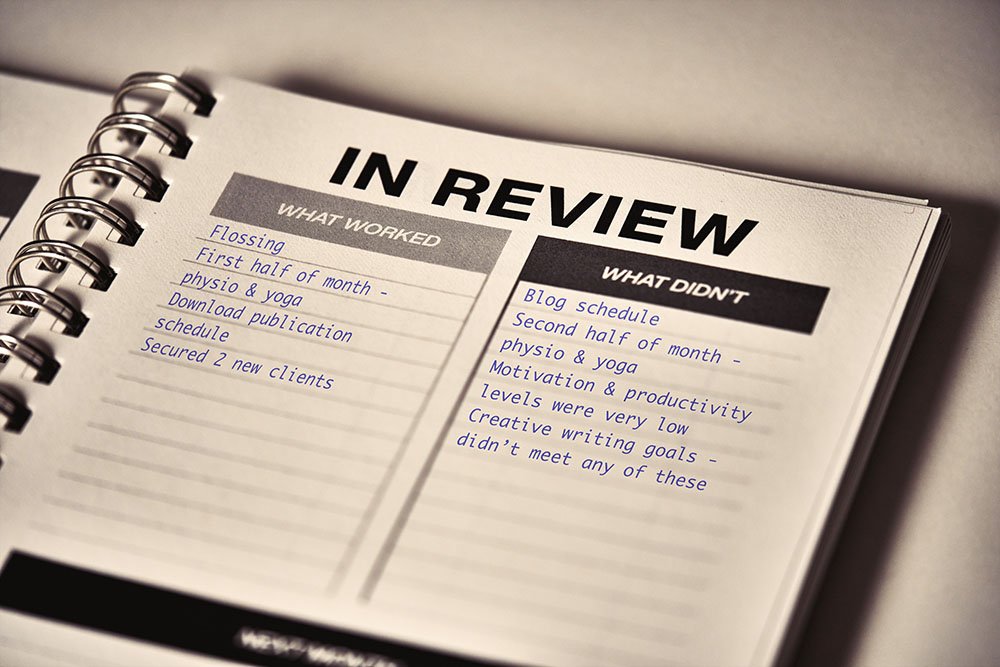 Step #3 Celebrate your successes and reflect on what didn't quite work out
For me, it's very important that I celebrate my successes, regardless of how much (or little) I accomplished the previous month.
This little "trick" has built up my confidence over the past few years. I can see everything I've done, clearly written down and tracked. It's proof of just how much I'm capable of accomplishing. When I take the time to acknowledge my successes, it's almost like I'm giving myself permission to boast.
Even if it IS to myself in an empty room!
For this step, I use the "What worked" section of my Clever Cactus planner (sixth page of the "My Months" spread).
Running high on all these accomplishments, I've got the confidence to reflect on what didn't work and write that in the "What Didn't Work" section of that page. The patterns I noticed in step #2 provide me with a clear outline of my weaknesses. Where or when I need to work harder to stay focussed, productive and on track.
I can then come up with a plan to do just that. And I write my plan in the "Next Month" section of that page.
Step #4 Update your annual goals & make notes about how you can improve
The final blast from the past step is to update your annual goals plan. In my Clever Cactus planner, I flip to pages 8 through 11 to review the goals I planned out at the beginning of the year.
Then, I ask myself the following questions:
Do I still want to accomplish these goals?
Am I behind anywhere?
Am I miraculously ahead?
Are any of the steps no longer possible or outdated?
What do I need to move forward in the timeline?
Are there any steps I need to add?
I update these Big Goal pages, adjusting my plans as needed, and then I make notes in the "Next Month" section (sixth Months page) of my month's spread.
Finally, I add:
My observations on the patterns I spotted in step three;
What goals or tasks need to be included in the next month; and
Where I'm going to focus my efforts going forward.
Now I'm ready to start planning for the coming month.
Don't have a Clever Cactus Planner? For these steps, you can:
Start a new page in your Monthly Review journal;
Make three sections: What Worked, What Didn't, Next Month;
Fill out each section.
Part 2: Look forward to the upcoming month
Once I've sorted out how I've done and given my confidence a much needed boost, it's time to look at what's coming down the pipeline. This part really exercises your organization muscles. And gets you thinking about how you can improve each and every day.
Step #1 Fill out your month's title page
First, you'll want to put the month name on your title page. I like to decorate the page and switch colours to ones that match the season. April's colours, for example, are pink, purple and green. March's were two shades of green and orange.
Changing colours each month not only makes my spreads more vibrant and interesting, they also give me visual clues when I'm flipping through my planner to know which page I need.
Second, I fill out the "goals" section.
I review my "next month" notes, go over my three Big Goals and decide what it is I want to do in the coming weeks. Now, I like to split my goals into three categories: personal, professional and creative. In fact, that's how I came up with my Big Goals at the beginning of the year. So I assign myself one, well, let's call it "medium" goal for each category.
So, my month's goals might look like this:
Professional Goal
Creative Goal
Personal Goal
Finally, I fill in the Birthdays and Events section of my title page. This is pretty self-explanatory – write in the birthdays and events that will happen in the coming month. I flip to my Year section (pages 15 to 18) and copy down all the dates I'd marked off at the beginning of the year. Then I check my digital and work calendars to mark down any important appointments or due dates.
Step #2 Write your bills and savings goals
This page, which I've given the oh-so-boring title "Money", is all about money and finances. As a freelancer, my income is variable and changing each month, so it's really important for me to have all my bills written out somewhere I can see them. Whenever an invoice is paid, I check my money page (the second page in the month spread) to see what's urgent and what can wait until my next invoice payment comes in.
It's a fun game I like to call "not getting stressed about money".
As for HOW I fill out my money page. Well, it's pretty easy – I go through all my bills and write them down. Then I check it off when I pay the bill.
Easy peasy, pumpkin squeezy.
The next step is to add your money notes. This section is here for whatever you might need – savings goals, amounts owed to you, plans for the future, whatever it may be.
When I'm completing this page, I look at the following:
Invoices with payment due (in my Accounting software)
The money goals I set up at the beginning of the year (page 12 and 13)
I write those here. I also write down any formulas I need to calculate things. Or any reminders to myself. That kind of stuff.
Don't have a Clever Cactus Planner? For these steps, you can:
Start a new page in your Monthly Review journal;
Write the month, your goals and events/birthdays.
Start a new page in your Monthly Review journal;
Make four columns: Bill, Due, Amount and Paid;
Add your bills and the relevant details;
Check back each week to make sure you don't miss a bill payment!
Step #3 Set up your daily tracking plan & page
This step is, of course, optional. I'll explain why tracking is important (in my opinion) in a future blog post, but for now let's just say that it's a lot easier to see patterns when you have everything in grid format.
To set myself up for the month, I flip to my Tracking page and write the dates across the top. Then, in the top "Daily Habits" section, I write the habits I'm trying to form. These include:
Writing
Flossing
Yoga
Physiotherapy exercises
I've also started including here some symptom tracking, so that I can monitor how I feel. For example, I'm tracking:
Hip pain (to see if this is connected to my not doing the aforementioned physiotherapy exercises)
Headaches (to see if there's a pattern to the headaches I get).
For the "Hourly Tracking", I write the hours down the left and the dates across the top. I use this section to track my sleep, specifically.
This April, I'm actually going to track the time I spend in my office as well as timing my walks. I'm trying to sort out if all this is connected – does sitting in my office for a whole day make my hip hurt more? Does going for a walk prevent my headaches?
Everything is connected and the only way I can truly know if what I'm doing with my time is helpful or hurtful is by looking for these patterns. Once I've seen the patterns, I can adjust and plan so that next month I'm happier and healthier!
Step #4 Jot down EVERYTHING you need to do
The final step to the actual Monthly Review is to write down everything you need to do in the coming month, repeated tasks and new ones. I have a system for this so that I don't miss anything.
Here's what I do:
Flip to previous month's to do list & copy the repeated tasks and any incomplete tasks;
Look at the Monthly tracking page (page 22) and add any tasks that are new this month;
Review the clean & declutter pages (pages 20 and 21), write down any tasks I haven't already written down;
Finally, I add any steps I've planned for my annual goals.
I like to split my list into "Planned", as in, I've already put it in the schedule or I know which day I need to do it; and "Not Planned", as in, I want to do this at some point, but I don't have a specific day yet.
Now, you might be asking why I go through all this work, rewriting things and making notes.
Well, this helps me stay on top of everything. I very rarely have tasks slipping through the cracks.
Since I started using this system, when tasks aren't done, I'm fully aware of them. And I've scheduled a time to do them – or think about them, anyway.
This way, I spend each day focussed on that day's work, and I don't get overwhelmed by everything else on my plate.
Which is the best way I know to reduce stress and stay productive.
Don't have a Clever Cactus Planner? For these steps, you can:
Start a new page in your Monthly Review journal;
Write "Tracking" across the top;
Make yourself a grid with enough columns and rows for the days of the month and your habits;
Add your habits and tracking data points;
Check back each week to enter your tracking data!
Start a new page in your Monthly Review journal;
Write "To Do List" across the top;
Fill the page with all your tasks;
Check back each week to check off what's done!
Part 3: Stay in the present, knowing you've got your plan in place
I've looked back. I've looked forward. Now, I focus on the here and now.
Throughout the month, my goal is to stay in the "present". I complete the tasks I've planned for myself. I write down what made me smile or think on the Smiles and Thoughts page.
Ultimately, I've come to trust myself. I trust that I've reviewed everything I needed to for the future and made the right plans to continue my forward momentum. I trust that I've noted everything important for the month.
I'll worry about next month during my next monthly review.
The only future planning I do throughout the month is for the coming week. Once a week – I picked Mondays, but you can do Fridays or Sundays – I do a weekly review (I'll post a guide for that soon!). That's my scheduled time to check in on my monthly goals, make sure I'm following my plans and adjust for the coming week.
If something comes up that I need to remember for the future – as it inevitably does – I'll make a note, then get back to it. This let's me stay focussed.
Or, if you've already got a weekly agenda but want all the monthly pages, download the Clever Cactus Monthly template! It includes a month calendar, goals and events section, money section, and to do list.
Want more organization guides? You can read all the Clever Cactus Guides here.
Remember, every month is different
It can be hard to stay in the present. This system makes it a bit easier. I hope you'll find success, productivity and happiness by doing a Monthly Review of your very own.
If there's any advice I really want to share is that every month is different.
Some months, you'll get everything done. You'll check every task off your list, accomplish your goals and look back and know that you've got this!
Some months, you just… don't. Maybe you'll do a few of the things on your to-do list. Maybe you won't do any.
And that's okay!
My March was a prime example of the "not doing" for me. I had a whole slew of blog ideas planned – including this guide. It took me the entire month to write this one guide. I'm not entirely sure why, but I have a few theories.
My point is, it's totally okay to have an "off" month. When you do, remember to be kind to yourself. Read a book. Watch some movies. Take a long luxurious bath. Unwind in whatever way works best for you until you feel up to getting back to work.
Take as much time as you need.
One trick I've started using when I feel this way is to do the short, small tasks. Then, do the projects I actually want to do, instead of forcing myself to do all the big boring things on my list.
Forcing yourself to be productive might mean you check more tasks off your list, but it comes at a cost of your happiness. Stress, anxiety, all these things are counterproductive. So take the time you need and always put yourself first.
And that's my PSA for the day!