Why, in this day and age of digital excellence, should you use a physical, old-school pen-to-paper day planner? Well, we find that the act of putting pen to paper is cathartic; once the task is on paper, our brains know it won't be forgotten and thus, it (the brain) can forget about it. This frees up mental space to focus on the work. We just don't get the same catharsis when we use a digital planner. That's why we launched our very own "old-fashioned pen-to-paper day planner". The first Clever Cactus Day Planner is based on a layout our founder, Lisa Hoekstra, used all throughout 2019 and 2020; she developed it herself, testing, trying and tossing out different layouts and spreads over the course of four years until she landed on one that worked consistently … and for longer than a few months.
We thought it'd be worth doing a quick overview while we prepare our more in-depth "how to" guides. We'll link the guides to this post, but in the meantime, read on and be introduced to the Clever Cactus Day Planner.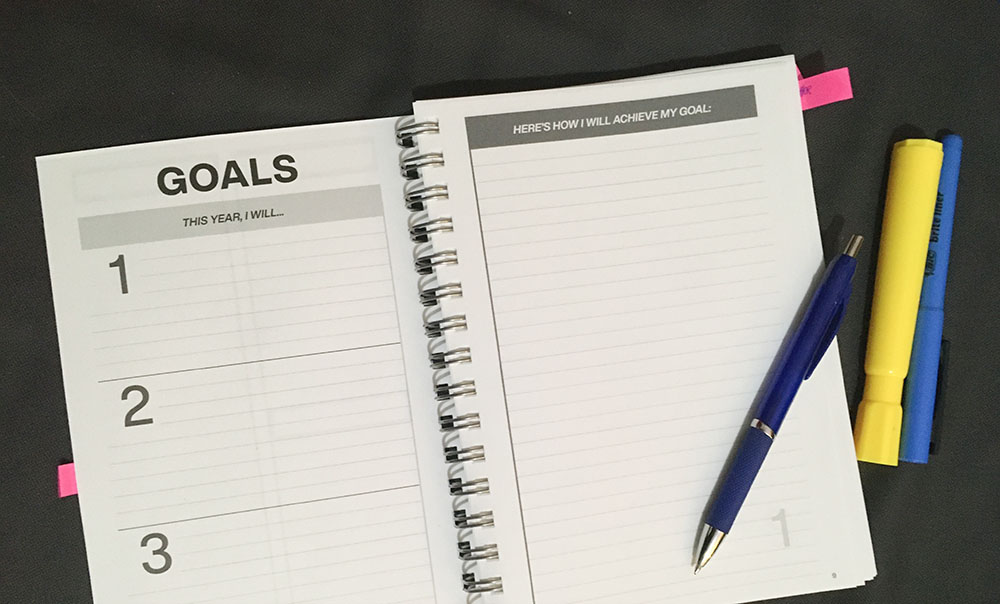 First up, My Year
When you open the Clever Cactus day planner, you'll find that pages 3 through 21 are all planning oriented. We call this "My Year" and made it so that you'll complete these at the beginning of the year, and refer to them throughout the year – about once a month or so – to keep yourself on track. This applies specifically to the goal-setting page, but it's worth checking in on all the pages.
Let's break it down point-form style.
Index – It's an index… Add in the relevant information. Use it to find the stuff you need.
Lists – We love lists. That's why we put in four pages of them.
Goals – Outline your three major goals for the year. Then, on the following pages, create "Your Plan" to accomplish said goals.
Money – Outline your savings plan or loan/debt repayment plans here.(There's room for three money goals, though we realize not everyone has three*. Then, on the next page (the one with the dots), create some diagrams or graphs to track your progress.
*"Three happens to be my personal magic number for how many things I can actually accomplish in a year," Lisa explains. "That's why I chose three as the top limit for Money and Goals."
Cleaning – We find it's easier to keep on top of all the parts of the house that need cleaning, when we've listed them out. That's what this page is for.
Decluttering – As with cleaning, decluttering should happen on a regular basis. This page is dedicated to ensuring you purge every nook and cranny at least once a year.
Year – Have you ever seen those bathroom calendars, with all the birthdays listed on them? If not, give it a Google. That's what inspired this section.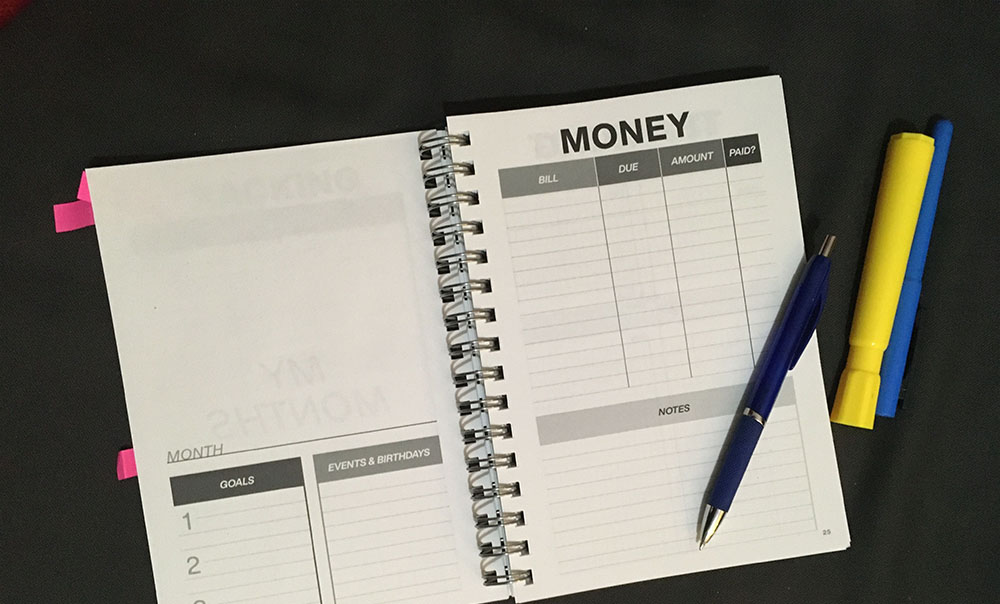 Next up, My Months
We've grouped all the "Month" pages together rather than putting them in amongst the weekly pages, as you might see in your average agenda. This was a tactical choice – we find it a lot easier to find the important pages this way. Instead of having to flip through the whole planner, you go to the month section. If you've added the page number to the index, even better!
We suggest filling out the new spread at the beginning of each month. Or on the last day of the previous month. You can even put "Fill in the monthly spread" as a task on the tracking page!
Now for some bullet-y type point-forming:
Monthly Tracking – scratch in all the stuff you need to do once a month or once every few months, and track the last time you did something, like rotate the mattress or clean the baseboards.
Month Cover – We didn't add the month names in here, so you can customize this page all you want. Add some doodles, colour it up. Tape a photo on it. The world is your oyster!
Money – Bills and other important money notes for the month in one easy to find place.
Tracking – We've included space here to track both once-a-day habits, and to record any activities you're trying to do daily for a specific amount of time… like sleep, read, walk or run, or whatever you want, you can put it here. Customize it. Make it your own.
To Do List – This section is for everything you need to get done in that specific month. You'll want to refer back to this page once a week to make sure you don't forget anything!
My Month in Review – At the end of the month – or even throughout the month – take some time to write down the things that made you smile. We believe that focusing on the good helps a lot when it comes to stress. Make a note of your thoughts. Add in what worked or didn't, then plan for the future.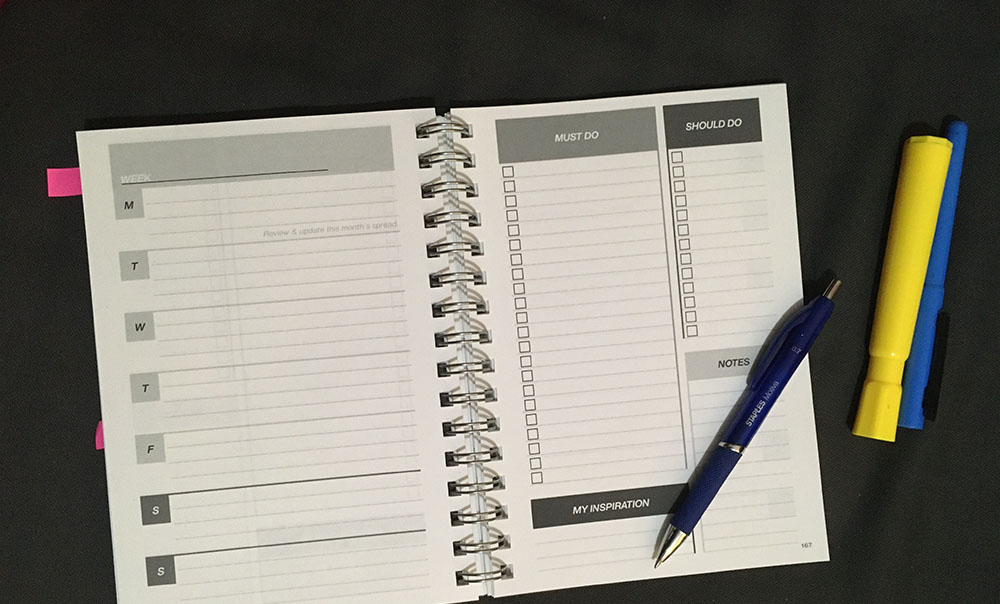 Then there are My Weeks
Now onto the daily grind – your weekly spreads. Each spread has the week outlined on the left page and space for your tasks on the right page. We suggest you set some time aside each Monday to fill in the spread, then you can focus on completing your tasks throughout the week. We also highly advocate the use of symbols and a legend. It'll help so much.
Here's, you guessed it, some bullet points
Left page – Agenda – we've left enough space here for you to add the week's date across the top, any appointments you may have during the week on the appropriate day, and any other due dates you need to meet.
Right page – To Do Lists – anyone who has written down a list of to dos will probably know how to use this. Just in case… we've divided this page into "Must Do" – for career/professional/work tasks; and "Should Do" – for home/chores/personal tasks.
This is how WE use it, but you can use it in whichever way works best for you!
My Notes, lined pages for the note takers
We use this section of the day planner for meeting notes, project notes, ideas, daily journaling… Everything and anything we might decide to write by hand. Sometimes it's just doodles… oodles and oodles of doodles. The key here is to put the page number in the index the moment you start a new piece of content, so you can always find it if you need it.
And that's all there is to it!
Find the first-ever Clever Cactus Day Planner in our shop.