Description
In this, our very first Clever Cactus Undated Planner, we've left all the date fields empty so you can pick it up at any time during the year, and still have a full 12 months ahead of you. (No wasted pages!)
What to expect from a Clever Cactus Planner
We've put together a design that helps you set and achieve goals, stay on top of your work and get things done. This Clever Cactus planner…
Keeps you on top of your tasks, especially when used in conjunction with a digital project management system.
Gives you an easy-to-use goal setting system so you can monitor your progress and stay on top of your big goals, without feeling pressured or stressed.
Helps you manage your bills and keep your home neat and tidy… after all, a clean environment helps you stay focussed.
Allows you to monitor your habits and track your personal goals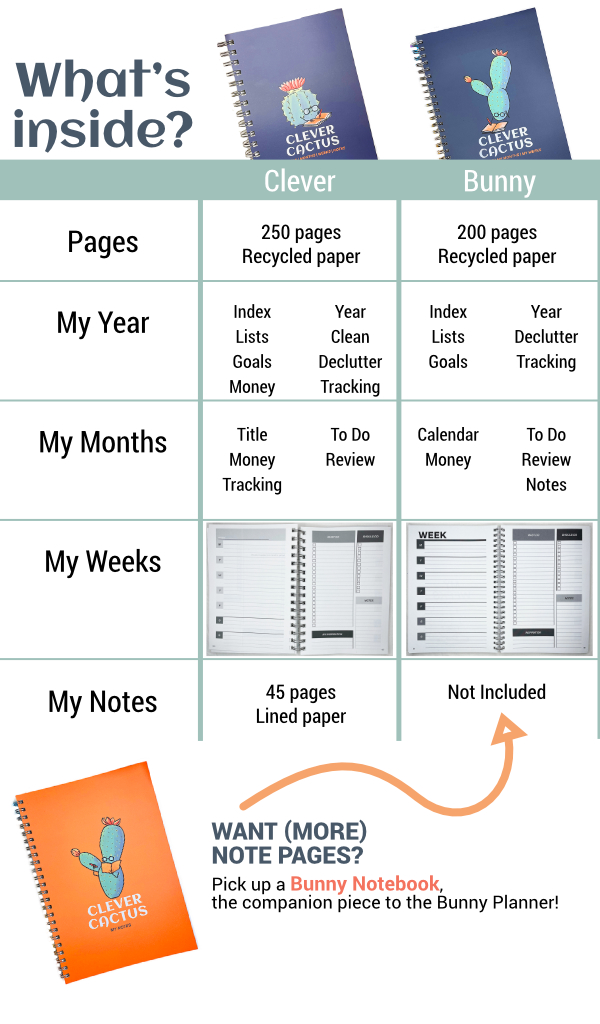 The Clever Cactus Planner is divided into four sections: My Year, My Months, My Weeks, and My Notes. Here's a quick overview of what you'll find.
My Year
This is where you start. Make lists, outline your goals, plan out your savings, organize your cleaning schedule and jot down those important dates for the year! There's also a page dedicated to tracking chores you don't necessarily do every month – like clean the windows! Or change your tires! So that you always know when, exactly, it was that you last did it.
Read all about how to use this section in our guide – My Year: How to use a Clever Cactus planner.
My Months
We've grouped all 12 months together in this section so you can easily find, and update, your monthly tasks. Each month has a page for goals, money (aka budget), habit tracking, to dos and full monthly review. We highly suggest you set aside some time every Monday to check back on that month's section, and make sure you're on track to meeting your goals!
Read all about how to use this section in our guide – My Months: How to use a Clever Cactus planner.
My Weeks
Here's where you get the real, nitty gritty day-to-day stuff. We considered putting a full day per page, but then the planner would have been over 400 pages and that's just way too many pages. Instead, we've set up a two-page spread that covers seven days. Here's how it works: on the left-hand side, you have your "calendar" and on the right-hand side is your task list. We've also added a section for your favourite quotes, or an inspirational mantra, to keep you motivated throughout the week.
Read all about how to use this & the Notes section in our guide – My Weeks & My Notes: How to use a Clever Cactus planner.
My Notes
The final section is lined paper for you to keep notes throughout the year. We make a notation in the Index (page 2) every time we start a new subject in My Notes, so that we can easily find what we're looking. It's just enough space to add your meeting notes, phone messages, notes to self, plans for world domination, vacation plans – whatever you need to note down, you can put it here.
Shipping your new Clever Cactus Planner
We're still working on the shipping FAQs page (and all the other FAQs, for that matter), so here's a little shipping note to hold us over until that's ready.
We now ship to Canada and the United States.
If you live outside Canada or the United States, contact us and we'll see what we can do.
A flat shipping rate will be applied at checkout.
Shipping across Canada should take about five – 10 business days from when we let you know that it's been shipped.
We're not sure how long shipping to the US will take; we'll provide an ETA and a tracking number once your order is shipped.
We offer a curbside pick up for anyone in Montreal. If you'd rather come pick up your order, you can select "Local Pick Up" at check out. Please set an appointment when prompted and wear a mask when you drop by.